Believe it or not, Rob Kardashian's ex Blacchyna is promoting a cream called whitenicious. yes, you read it right. The said bleaching cream belongs to Blacchyna.
The celebrity went on Instagram encouraging people to join her at the launch of her new skin lightening cream. 'Whitenicious X Blac Chyna Collection Diamond Illuminating & Lightening cream', but faced backlash for promoting "skin bleach".
According to Capital News, The cream costs $250 per Swarovski crystal-encrusted 100g tub . The cream is apparently something Chyna has used to get rid of pigmented patches on her skin.
Blac Chyna Slammed For Promoting 'Whitenicious' Skin Lightening Cream For $250
As very hypocritical that Africans can be, it must interest you to know that according to the World Health Organization, Nigerian is at No. 1 users of skin bleaching cream.
According to WHO, the women in Nigeria believe in the light skin than the dark and lovely. Many even are of the view that the probability of fair ladies marrying is higher than dark girls. This is so not true and do not have any fact tho.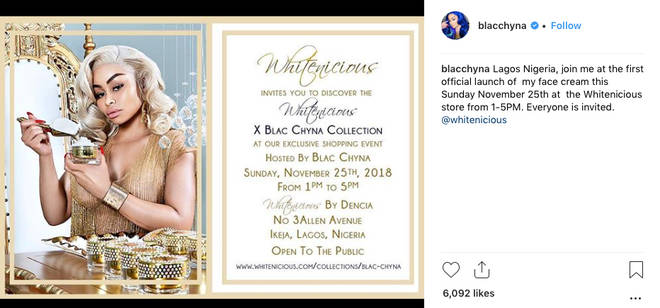 The model 30years of age and is partnering with,  beauty brand Whitenicious by Dencia. The brand belongs to Blacchyna.
"This illuminating cream provides radiant protection. As time passes, skin becomes drier, dullness and wrinkles appear. and the skin's natural glow dims. With DIFBC, glowing skin shows less discoloration and unevenness while SPF protection minimizes future damage. Skin is bathed in moisture for a brighter beautiful comfortable feel."