Seems the battle between the self-acclaimed Ghana Dancehall king and the International Dancehall Sensation Stonebwoy is not ending anytime soon. Stonebwoy has been showing much love to Shatta Wale since he came to join Zylofon.
The EOM singer in a tweet welcomed his comrade saying;
"Welcome @shattawalegh to @ZylofonMedia Forward We Seh!!
#BhimNationGlobal… "
However, the energy coming from Shatta Wale's camp is different.
Stonebwoy embarks on yet another philanthropic adventure by donating some items and paying the outstanding bills of some of the patients as part of deeds commemorating his birthday celebration. This is a yearly activity the artist does to give back to the community.
On Instagram, he posted a picture saying "The LIVINGSTONE Foundation paid a visit to the accident centre wards of The Korle-Bu Teaching hospital to make some donation and pay outstanding bills for some patients at the ward on the occasion of my birthday.I decided to remember and spend this day with those who found themselves where I found myself 15years ago as a result of a car accident…Big thanks to the authority of the hospital and all who made it possible..by the mercies and blessings of God lets all endeavor in the smallest of ways impact our surroundings when it touches your heart, remember there is nothing too small to give".
Shatta Wale Fires New Shots at Stonebwoy and Management.
This kind gesture did not go down with some SM fans. Although the act of kindness by Stonebwoy has not been done by Shatta Wale consistently, SM fans still were mischievous. Shatt wale then took to social media to jab his fellow label signee.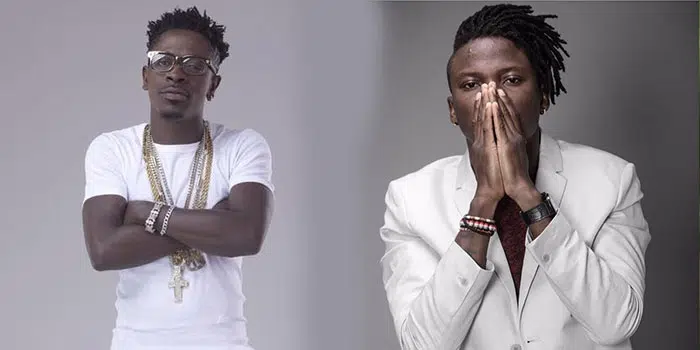 They pretend they have money in front of their friends but anytime these friends ask them to do something for them.They will say chale me my money Ade put into sick people dem a inside for hospitals…. #SHITO pic.twitter.com/CcMBEMgJTv

— SHATTA WALE (@shattawalegh) March 9, 2018
This year, Shatta Wale has already bought cars for four of his friends—his Manager, Pop Skinny, Captan, and Flossy Blade.
The Dancehall King who has equally donated to hospitals in time past has jabbed his fellow that he needs to be kind to people around him too. We cannot say for a fact that Stonebwoy has not been grateful. Probably he just doesn't show the public which is very cool.