In an exclusive interview with Ghanaweb, the Hearts of OAK legend, Bernard Don Bortey revealed that Arsenal, Barcelona and Juventus were after him. The skilled footballer Bernard Don Bortey at his prime could be matched against Ronaldo & Messi. Arsene Wenger Tony Adams Don Bortey
"It started during the U-17 world cup when agents expressed their interest in signing us to some English Football Clubs like Manchester United, and Arsenal."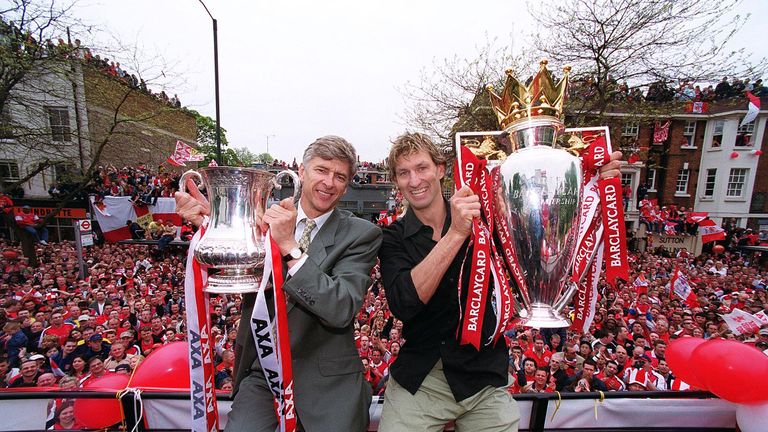 Arsene Wenger & Tony Adams Came To Ghana To Sign Me
In the Interview, he revealed after the under 17 tournaments in New Zealand, Tony Adams the Arsenal Captian & Wenger came to Ghana. They came to close a scouting deal with Bernard Don Bortey. He also added that when they Wenger came they approached the then Manager GHAOPOHA of which Don Bortey was playing for.
Unfortunately, the managers at GHAPOHA FC did not permit it. They were of the view that Don Bortey was a "small boy" and did not have an agent to help sign him on. This broke Don Bortey as he badly wanted a career with Arsenal.
A BRIEF ABOUT BERNARD DON BORTEY –
Arsene Wenger Tony Adams Don Bortey
Don Bortey officially began his career 2000 with Ghapoha Readers in Tema. One year later, he moved to Accra Hearts of Oak SC and became an integral part of the "64 Battalion" and a deadly force alongside Charles Asampong Taylor, Ishmael Addo, Emmanuel Osei Kuffour. Hearts loaned him out in 2002 to Al Wasl FC in Dubai, where he played for 6 months. He returned in June 2002 to Hearts were he won the league and shared the Top Scorer award with Charles Asampong Taylor.Nicknamed "Dong Dada Diouf" a reference to Senegalese forward El Hadji Diouf due to a similar style of play and his dyed hair.
Awards and Honors include