The World Heavyweight champion Anthony Oluwafemi Olaseni Joshua has regained his title once again. The Nigerian British Boxer went into one of the most uncertain bouts with Carlos Takam.
Although Anthony Joshua was an overwhelming favorite to beat Carlos Takam, the bout was still uncertain as Anthony had to ensure he beats the weighing.
The two boxers Anthony & Carlos fought for a combined total of around £11million match prize. However, the total fight revenues are estimated to be huge than the above.
 Anthony Joshua started off on an attacking mode. He pawed with the left jab and continued to move his opponent Carlos to the corner. Joshua dictated almost the early rounds of the bout.
Carlos takam did not just be on the receiving end. He also gave few body shots. The two boxers suffered a headbutt. But Anthony Joshua began to bleed in the left nostrils. This did not reduce the pace at which the boxer was pawing Carlos Takam.
The crowd began to cheer for the British boxer when he gave Takam a uppercut that saw Carlos Takam wobble a bit to the ground.
During Round 7, Joshua continued with his impressive good jabs and stalking takam for an opening. The French boxer Carlos threw a dangerous punch but AJ was fast to swerve. In the 9th round, Takam came in very hard landing heavy punches. Takam won the Ninth round cleanly.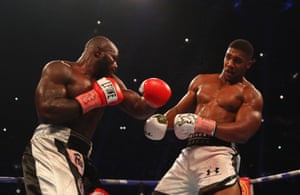 For the 10th round of the bout, the refree had to call the game off byt TKO early in the round due to injury suffered by the french boxer. Howvere, Takam was coming off a round he'd won. Many fans booed the refree for calling a TKO at such a time.
In an interview, Anthony Joshua said
"I have no interest in what's going on with the officials," Joshua says during his in-ring interview. "I just worry about my opponent. Unfortunately, the ref stopped it. I think people wanted to see Takam unconscious on the floor, am I right?
"He was getting there. I didn't have control over the ref's decision. We get the win and now we look forward to 2018."
In an intereview the Boxer said that "My heart is with Nigeria, my heart is with Britain, I'm a Nigerian by blood, yes. Eating eba with egusi is the secret of success", he told Oma Akatugba of Sportsbrand.