Seems anytime Christiano Ronaldo is playing against an English Team he gets furiously angry over Benzema missing chances. The Real Madrid Star Cristiano Ronaldo endured a frustrating night as Real Madrid dropped two points away to Las Palmas.
Mauricio Pochettino's side has taken a significant good start at this year's Champions League. The Spurs are at the top of their group after today's match at the Bernabeu. stride towards reaching the last 16 for the first time in six seasons thanks to a spirited display in which Spurs had to survive sustained spells of pressure but were only breached by Cristiano Ronaldo's 43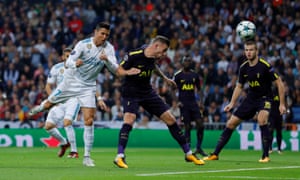 Tottenham fans, thrilled with their team performance despite missing the influence of Dele Alli. The Spurs star is currently on a suspension. As such, this forced Pochettino into a reshuffle but he still sprang a surprise in his starting line-up.
Fans around are hopeful that the team will reach the last 16 for the first time in six years of the Champions League.Within five minutes of the game, the Real Madrid came up with a brilliant chance to stay ahead in the game. This could have been an early lead for the home side.
According to standard "Marcelo looped a ball to the back post which Jan Vertonghen allowed to drop. Achraf Hakimi collected and crossed for Ronaldo, who rose above Alderweireld to plant a header against Lloris' left-hand upright."
It was a close shave for the home team. However, Karim Benzema wasted the rebound, driving wide from inside the box. This made the current world best player furious angry.
Cristiano Ronaldo overreacting to the early chance Benzema just wasted. This is not the first time. The star player caught on camera reacting to Benzema goals and misses.
Cristiano Ronaldo Reacts angrily
Cristiano Ronaldo Reacts angrily after Benzema Miss clean chance